Customer reviews
We've loved hearing from our customers. Below are what some of them have had to say about the WALNUT SAW™!
December 2017
The saw works beautifully. Thank you!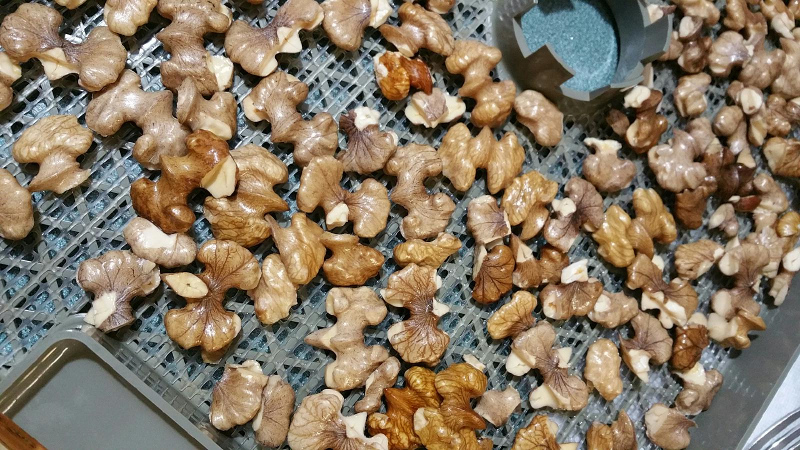 Lori
Lake Orion, Michigan
December 2017
This saw is a must have for anybody serious in processing Black Walnuts. This technique, design, ease and safety of use is incredible. I have found that once husked, the time in processing nuts is cut in, at minimum, one-half. The huge advantage of the saw is that the hammer and nut pick are put away. With only a minimum of work and a little learning curve the amount of large kernels extracted is phenomenal. The other huge advantage since there is no cracking and those real tiny little shells are virtually eliminated.
Steven
St. Paul, Minnesota
July 2017
Received the saw today and have already successfully extracted a few whole walnut halves; a unique experience if a person knows walnuts. As a machine builder of machines that polish rock flats, I appreciate your engineering skills and dedication to solving the age-old problem of how to get the meat out of black walnuts, the king of walnuts. Besides that. I know you are not getting rich on this because the quality of the machinery is first class. The Skill grinder and blades and spacers are fine quality. Besides that, your YouTube presentation was spot on and believable. Also, the best documentation imaginable.
Congrats to you and me because I bought it. I hope you sell a million of them.
Sincerely,
Larry
Star Prairie, Wisconsin Near Minneapolis-St Paul and Lake Superior
December 2016
I have been an avid black walnut lover and cracker of these hard wood-shelled nuts for years. I have used the old fashioned method of cracking the walnuts with a hammer and anvil for years, busting a thumb or two on occasions. When I learned of the WALNUT SAW™ by David Berry, we connected and I ordered one of Berry's saw two years back. After I received it, I was immediately impressed with the ease of its operation and severing the walnuts in half. Initially, I noticed the residue and/or particles accumulating on my clothes. After communicating back with David reference a remedy for this minor dilemma. David was most helpful in advising of an attachment he devised that could be simply connected to the saw's blade and then attached via a hose to a small vacuum which I picked up at Lowe's. Now the residue and dust are sucked into the vacuum while the saw is sawing the nuts in half. Since my purchase of the WALNUT SAW™,I have sawed and retrieved 2 large coffee size cans of black walnuts in half the time and effort. Thanks to David Berry's innovative invention, I am having fun in the Arizona Sun (in the shade) sawing and eating these wonderful black walnuts.
C. G.
Arizona
November 2016
I bought my Walnut Saw last winter and used it on a few nuts I had left over from the previous fall harvest season. I was quite impressed with it but I was looking forward to the fall harvest season so I could give it a real workout. This fall I have harvested nearly 100 gallons of washed nuts that I am drying and sawing as I have time. I must say that I am quite impressed with the speed and ease of extracting the nut meats. Compared to walnut crackers I own, it is much, much quicker and with it I can extract larger pieces than with the crackers. Also, there is very little waste compared to crackers. The best part is that there are no nut shell pieces that sneak in with the nut meats!
In my opinion, the Walnut Saw does a much better job in a shorter time than several other more expensive nut crackers I own. It is certainly a quality tool that has been very well designed. It is also adaptable to different nut sizes. The key to success in using the saw is following the directions (to the letter) as contained in the owner's manual.
I tried the walnut pie recipe that is on the web site for our Thanksgiving dinner. It was excellent!
George
Kearneysville, WV
November 2016
One of my customers in Stanton, Iowa is a writer and does articles for his local newspaper (The Red Oak Express). Below is an article he has written and will appear in his newspaper shortly before Christmas.
In a world of gadgets the creation of David Berry, of Mountain Home, Arkansas, strikes me as one of the best. Berry is a retired mechanical engineer with a lifetime of experience in designing and repairing small machinery. An interesting fellow, he supplemented his acquired knowledge with a thorough study of the geometric anatomy of a nut to perfect the first and only precision black walnut dissector.
He markets the device with people like my wife and me in mind. She's filled her kitchen with dozens of gizmos, most of which could be replaced with a paring knife. In addition she has a Pickle Picker (to extract whole pickles from the jar) and a toaster that also poaches eggs. She likes her Waring Pro Wine Chiller into which a bottle of wine can be placed and, after dialing in the type, the exact recommended serving temperature is achieved. To open the bottle our son rigged a tool similar to something he saw on line. It features a hollow needle with flexible tubing attached to a CO2 cylinder. The needle is inserted between the cork and the neck of the bottle. A button is then pressed, releasing just enough pressurized CO2 to blow the cork through a 1/2" sheetrock ceiling. He calculated that a single cylinder would open at least 100 bottles, but I've never gotten more than two.
My gadgets in the garage include right-angle screw drivers, a stud-finder that's never found a thing and a volt meter I don't know how to use. Useless though some things are, it's comforting to know they're there.
The Berry Black Walnut Saw was a must-have addition; one that combines the best features of a culinary gadget with those of a heavy-duty power tool. The thing has two side-by-side, carbide-tipped, carefully calibrated and spaced high-speed rotating blades attached to an adjustable, swinging clamp into which a black walnut, if firmly placed in exactly the right position, is rotated into the blades in a way that slices the walnut, removing the center shell partition and leaving two nutmeat halves free and intact.
Admittedly, the process takes time. A hammer is faster, as is my NiftyNut piston cracker. Those devices, though, are simple and unimaginative; only a step removed from the two stones employed by cave dwellers. Like stones, they crush the walnut and portions of the interior, mingling pulverized nutmeat with tiny fragments of shell.
Berry's Black Walnut Saw makes the satisfying, high-decibel sound of an industrial power tool while bringing forth entire halves free from even a trace of shell. Eye and ear protection is recommended. The saw is best used outdoors because even a few walnuts generate a dense haze of dust. Working outdoors is pleasant, though, as is having not just the nuts but also the shells in large pieces. Black walnut shells are my choice for smoking ribs and brisket, and halves are nice to work with.
My wife could complain about the electric bill or the fact that what I paid for the Berry Black Walnut Saw would have purchased a life-time supply of already shelled nuts, even if we were young, but she hasn't. And I don't think she will when she checks the Christmas tree and sees her 32 quart turkey fryer and 55,000 BTU stainless steel jet burner.
Roy Marshall
Stanton, Iowa
October 2016
Hello David,
I got the saw set up late in the day Tuesday, after spending most of Tuesday cracking black walnuts with a heavy-duty cracker and about four hours with two coworkers helping pick nut meats and find shell bits. Tuesday evening, I just sawed a few nuts to see if alignments, spacing was good and to learn the procedure, after reading your informative manual. Those trial nuts cut/cracked beautifully, so I planned on sawing a bunch the next day.
I put on a cheap Tyvek suit and a full-face respirator, since I had a 4 gallon bucket of nuts to saw. The dust was flying! After sawing all the nuts and dusting off, I went inside to start cracking and the results were impressive. In less time than we spent cracking the prior day, the saw method yielded four times the volume of nut meats. Plus the pieces were much bigger, making it easier to look for shell fragments. This was working by myself, so the time reduction was almost cut in half to produce about four times as much cleaned nut meats.
Our chef and staff are planning a big event this weekend and local black walnuts are on the menu. The chef was delighted when I walked in with a big bag of walnut kernels; "Is that bag all shelled black walnuts?" He's seen the results of different methods, so he was impressed and relieved we could supply enough walnuts to serve dessert to around 200 people.
Thank you for designing such an effective tool and for your friendly, courteous service. Now that I can deal with them, I'm going out to collect more nuts!
Best Regards, Rob
Virginia