We're now accepting orders for the
WALNUT SAW
™. Please allow 1 week for shipping. Included with the purchase of the
WALNUT SAW
™ is the following:
The WALNUT SAW™ with Vacuum Port
Push button extension cord for easy on/off operation
5-IN-1 scrapper for popping the nuts open
Spanner wrench for saw blade removal
Owners manual for the WALNUT SAW™
Extra spacers for use with a wide range of nut sizes
OEM saw motor manual
Mounting screws
R0 square drive bit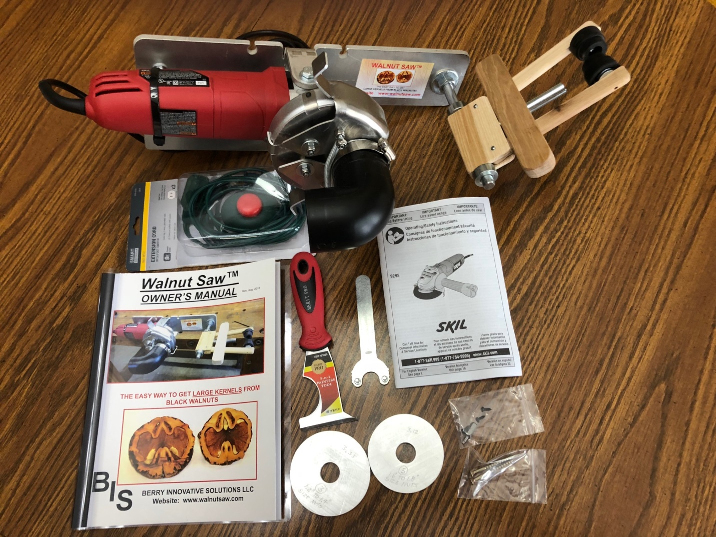 Price: $329 plus shipping and handling (Continental United States only)

You can purchase online using any major credit card or a PayPal account. If you prefer, you can also send a check or money order. Orders paid by check will be processed once the check clears.

Buy online

WALNUT SAW™
This uses PayPal's secure website for handling the transaction. You can use any major credit card and are not required to have PayPal account.

Send a check or money order to

Berry Innovative Solution LLC
505 Springwood Drive
Mountain Home, AR 72653



If shipping outside of Arkansas,
Amount: $329 + $19.50 (shipping & handling) = $348.50

If in Arkansas, add 6.5% sales tax.
Amount: $329 + $19.50 (shipping & handling) + $21.39 (tax) = $369.89

Include a note with your shipping address and a phone number or email address where we can contact you if any issues arise.